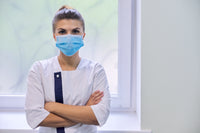 Top Quality
We want to do our part in the fight against Covid-19 to help Optometrists, Ophthalmologists, and Dentists, Surgeons, Nurses, ER Doctors, Paramedics, Police Officers, Restaurant Employees, and everyone else on the front lines keeping our economy going and saving lives everyday they go to work. We also supply countless owners of businesses who aren't on this list. Every business is an integral part of our economy and we feel everyone should have access to the best quality products that the world has to offer. We supply the products that you need to do what you do best every day. We have been sourcing products for over 141 years and have built countless relationships with many factories throughout the world.
With the costs of factories opening and repurposing their factories in order to help the world supply of masks and other protective equipment, the costs to produce the supply has increased in order to meet the demands. We have marked our prices in order to cover customs, duty, expedited air shipping from our factories, and our employee costs in order for them to collect a pay check. Everyone deserves a fair price and we are sticking to it. We work with the best factories in the world to sell the top quality products and the best prices. 
Great service! Fast Shipping!

Harper S.
Can't believe how fast I received my order! Top Notch quality too.

Steve S.
You guys are the best. Way to go.

Alfonzo Q.
Hand Sanitizer AND ALCOHOL WIPES
Face Shields, Goggles, Thermometers